This Site Was Formerly www. MFASSmallBusinessConsulting.com
---
Feel free to search our entire website with this internal search engine
More Antique Business Resources to Help You in Your Time Consuming Endeavors
Last update -June 18, 2019

In keeping with my pledge to provide antique business resources at affordable or no cost, try some of these programs on for size.
Depending on your needs, one or more of these programs and web sites can provide your business with real value. I have no vested interest in most of these programs and indicate when I do, but I wholeheartedly recommend your investigation of them as they have been chosen to save you time and money.
They are mostly all internet or cloud based, so upgrades are accomplished automatically and access to most is available from all your platforms, notebook, smartphone, laptop or desktop.
---
Security - A Must!
Protect Your Antique Business with These Resources
This newsletter by David Strom. "Inside Security" is a great way to keep up with the rapidly changing security threats we all face every day. Sometimes, he writes for the professional, but a lot of the information he provides is important to you, the business owner. Click here to see a sample of his newsletter. I have been a subscriber for the past twelve years.
David Strom
Security Evangelist
David is an award-winning writer, speaker, editor, video blogger, and online communications professional who also advises numerous startup and well-established technology ventures. He began his career as an in-house IT analyst and has founded numerous technology print and online publications, such as editor-in-chief of Network Computing magazine and as part of the launch team of PC Week's Connectivity section. David has written two books and spoken around the world at various conferences and been on national radio and television talking about network technologies. He continues to build websites and publish articles on a wide variety of technology topics geared towards networking, security, channel, PC enthusiasts, OEMs, and consumers. In addition to these activities, he consults to vendors and evaluates emerging technologies, products, strategies, and trends to help position and improve their technology products.

Get free virus protection with Microsoft Security Essentials.
Microsoft Security Essentials
is a free* product you can download to help defend computers running Windows Vista and Windows 7 against viruses, spyware, and other malicious software.
     Note: In Windows 8 and 10, Windows Defender replaces Microsoft Security Essentials. Windows Defender runs in the background and notifies you when you need to take specific action. However, you can use it anytime to scan for malware if your computer isn't working properly or you clicked a suspicious link online or in an email message. 
---
Insurance and Conservation To Protect Your Antique Business Investment
Dealers and collectors all should consider insuring their collections and the time will come when a valuable piece is damaged and needs repair or conservation. These links will put you in touch with specialty brokers and conservators.
For a general overview of insuring art, go to this article on the options available to you.

First, there is AXA-Art, which is a great resource and also a specialty insurance provider for fine arts and collectibles.

Antiques & Collectibles National Association

The National Antiques and Collectibles Association provides dealer insurance as well as a variety of other benefits.
The Antiques & Collectibles National Association was founded in 1991 by Jim & Yvonne Tucker, long time antique dealers who found there was no insurance or trade association available. Since then it has become the largest industry association with thousands of members in all 50 states to provide benefits and resources for  antique dealers and private collectors.
---
Affordable Accounting
---
File Storage
With your important files stored in the cloud, you can access them from any platform and protect them from loss if your hardware decides to take a permanent vacation, an essential antique business  resource. The folks at Microsoft OneDrive will set you up with a terabyte of storage for $6.99 per month and they include an Office 365 subscription at no additional cost, definitely a good deal.
---
Time Tracking
Time tracking – For those of you who bill for time, this can be an excellent asset as it tracks all your time, whether billable, wasted, research, or any other time suck. Enter Chrometa the app that tracks your time without notes or timers.
Chrometa logs all your computer activity and breaks down your time by application, e-mail, Web page and document.. Depending on the size of your business, you have several levels of this business resource available.
You may download a free trial or sign up for one of the three individual levels available: Basic, 1 device, 3 months of data retained, $12 / month; Premium. 2 devices, unlimited data, $19 / month; and Ultimate, 3 devices, unlimited data, $29 / month.
We have a business relationship with Chrometa, but we strongly recommend you at least checking them out. Click the link below to find out more.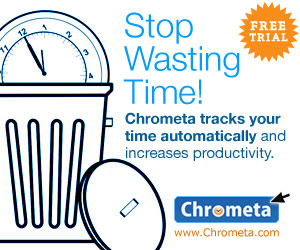 ---
Scheduling
---
Organize and Database
Information Organization – It is a fact of modern life that we are all on information overload, so along comes Evernote to allow us to capture everything of interest and allow us to search that captured data efficiently. That data can be in the form of html pages, pdf files, text in photos.
Save your ideas, things you like, things you hear, and things you see. An absolute necessity as a business or personal resource. It's free or you can go Plus for $34.99 per year or Premium for $69.99 for a year.
---
A Database for Collectors & Dealers
Finally, a database program that works for collectors and dealers as well. The program was developed by a computer programmer who was frustrated trying to find a database program to suit his needs that was inexpensive, yet fairly full featured and easy to set up and use for his personal map collection.
BINGO! He hit the nail on the head! Recollector is only a $49.00 one time cost, Is easy to set up, has a very short learning curve and is highly customizable. It is also available as a free trial (limited to 25 records).
It is marketed for collectors, but it offers all I need as a dealer as well and if spread sheet functions are required, output to Excel is simple and straightforward.
I have no affiliation with this product. I tried it for two hours on the free trial and immediately purchased it! It provides everything I need to track not only my inventory, but my library as well. This gives the most bang for the buck that I have ever found in any database program. Try it, you have nothing to lose but an hour of your time to experience its' capability.

---
Make Your Signature Brandable
E-mail Signature - If you're looking for an easy way to transform your boring old e-mail into a powerful marketing tool, Wisestamp is the coolest way to do it. Pricing is $48.00 annually.
Collectors can also use this app to set themselves apart from the crowd.
---
Track Social Media Activity
Track activity related to you on social media with Trackur. Monitor your reputation, your news mentions, your PR campaigns, your employees, or your competition. Trackur's social media monitoring tools are easy to use, yet offer a surprising number of features. Pricing starts at a somewhat pricey $97 per month with a free 30 day trial period.
If you are operating a high traffic endeavor, this is actually a very reasonable price.
If you rely on social media to facilitate your online marketing efforts, you owe it to yourself to check out BleupagePro. This innovative application saves a huge amount of time by enabling you to post to many social media sites at once. The price is incredibly low, considering the hours of time that it saves. Go ahead, check it out. I did and I use it and am now affiliated with them. BleupagePro.com

---
COMMUNICATION
*Phone.com provides a professional image by getting an 800 number, setting up conference calls and other professional services available at very reasonable costs at phone.com. We not only recommend this service, but we are also affiliated with them. Check them at this link. Pricing starts at $12.99 per month with a 39 day money back guarantee

---
Return from Business Resources to Small Business Resources

As an Amazon affiliate, I have included links to products I recommend, but there are many other brands and prices available at Amazon and other retailers. (We are a participant in the Amazon Services LLC Associates Program, an affiliate advertising program designed to provide a means for us to earn fees by linking to Amazon.com and affiliated sites.) We are also affiliates of many of the other sites we link to. Sites that we recommend that we have no affiliation with are indicated with an asterisk (*). However, we have either purchased or at least tested any recommended affiliate or non-affiliated sites before adding their link to our site.